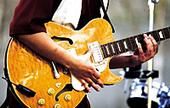 Frequently Asked Questions
How much do lessons cost?

 Guitar: $100 per month
Bass: $60 per month
Ukulele: $60 per month

How long are lessons?
Do you teach beginners?
 Do you teach people with special needs?

I do, contact for further information.
Are lessons conducted in person or online?

Yes to both. Depending on location and circumstances online is preferred.

What materials do I need to buy if any?

All you need is your instrument. I provide all lesson sheets. 

What style of music do you prefer to teach?

None. Music is all encompassing and the tools necessary to play music are not style centered.

 If I miss a lesson do you offer make up lessons?